Automated stock alert system with an objective of alerting some of the most potentially profitable short-term opportunities in the U.S. stock market. Ideal for day traders and swing traders or anyone who wants to be alerted to momentum stocks, averaging 20+% increase within 1 day and upwards of multi-hundred % increase within a day. Long term opportunities and crypto assets also alerted on rare occasion.



Bilo Selhi's

TRACK RECORD (2014 to 2021)

shows history of tremendous opportunities alerted by this service. HUNDREDS OF TESTIMONIALS


Opportunities are alerted for small caps, mid caps, large caps, penny stocks, ETFs, and crypto assets. Any opportunity that has potential to make big % moves in the short-term is alerted.



Alerts are posted in real-time on Telegram (you will need a Telegram account to receive service: https://telegram.org/ )


Approximately 3 to 15 trade alerts per day generated by 2 trade algorithms. Also dozens of watch alerts and bubble charts updated in real-time as the biggest momentum stocks on the watch list hit new highs. See examples

How many stocks do you find each year that increase at least 100% in the short term? If you want help finding more, this service is for you.
100+% winners alerted this year.


Subscribe today for special introductory offer to get started...
---
Questions? Please send email to:
stocksthatdouble@yahoo.com
---
BEWARE of impersonator accounts on Twitter and other social media sites. The only two Twitter accounts associated with BiloSelhi.com are:
https://twitter.com/stocksthatdoubl (approx 25,000+ followers)
https://twitter.com/BiloSelhi1
NEWS:
December 1, 2021: Algorithm 7.0 currently in an 18 trade alert win streak. See details on the Track Record page.
December 1, 2021: Algorithm 1.1 results for the month of November: 86.5% of the trade alerts hit the profit target with an average increase of 22.9% within 1 day of the alert.

November 1, 2021: Algorithm 1.1 results for the month of October:
83% of the trade alerts hit the target within 1 day with average increase of 22.8% and median increase of 9.3%.
October 25: Algorithm 1.1 ends a winning streak of 23 trade alerts. Average increase was 49% and median increase was 18.4%. See track record for details.
---
Some subscribers report their success* on Twitter...
---
Ranked #1 on a stock trading site with hundreds of thousands of members...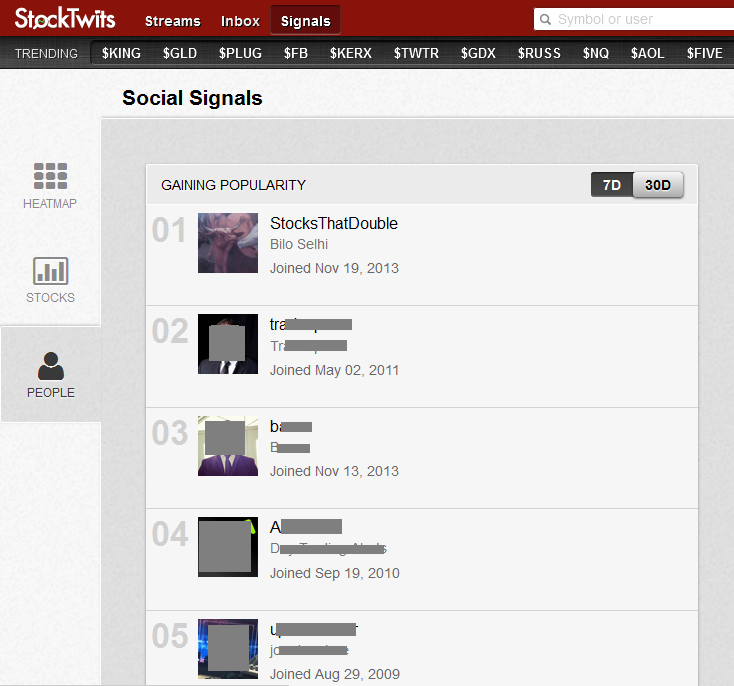 ---